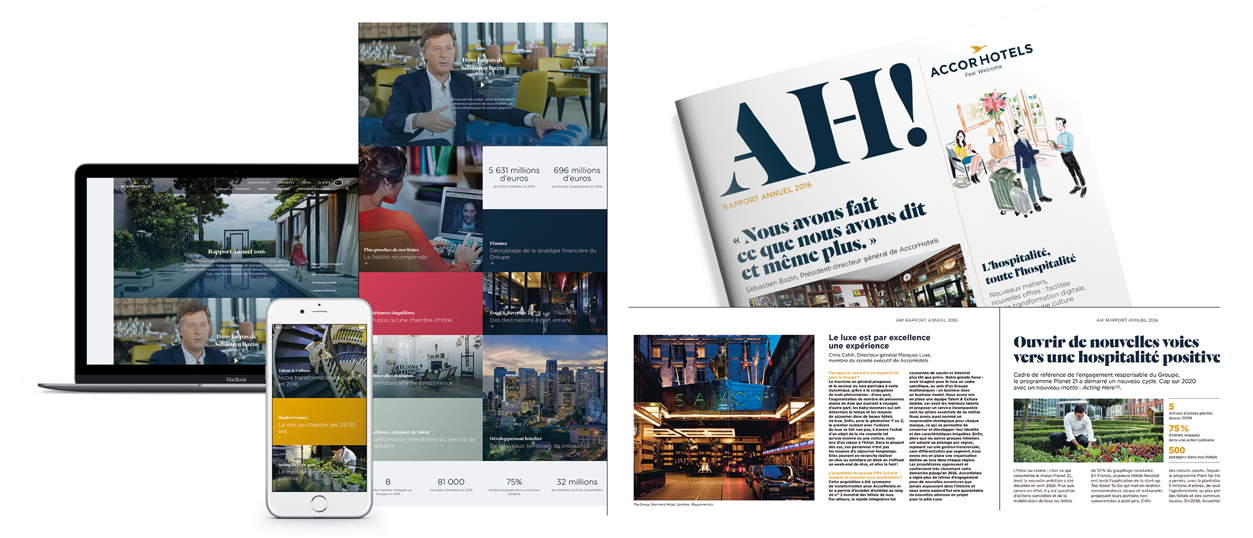 In a rapidly changing environment, we are transforming ourselves. That's why the new 2016 edition of the AH ! Business Review gives you the keys you need to understand the Group's strategy. This ability to rewrite the established codes can also be seen in the original format used in the paper and digital versions of AH!
Push back the frontiers of traditional hospitality, firmly anchor AccorHotels in present and future travel habits, become a part of the everyday lives of our guests, future guests and neighbours, be as close as possible to our partners and employees. This is the message contained in this edition.
AH ! Hospitality, nothing but hospitality!
With its atypical, foldout giant poster format, the paper version of AH! presents news of the Group's strategies through interviews, key figures and visuals. The XXL colour illustration showing moments in the lives of our guests at our hotels adds the touch of modernity and daring which is a feature of AccorHotels.
In the digital version, Sébastien Bazin, Chief Executive Officer of AccorHotels, explains in an exclusive video interview how the Group positions itself on all travel opportunities by attracting new guests and creating novel opportunities to develop links with them while adapting to their expectations. In fact, in 2016, almost everything changed: our brand portfolio, our range of services, our approach towards new talents and our responsible strategy! Articles, photos and personal accounts illustrate the highlights of this eventful year, which you can see here.