Talent & Culture
Meet Mathilde Hénault, Guest Relation Intern at Mercure Bali Nusa Dua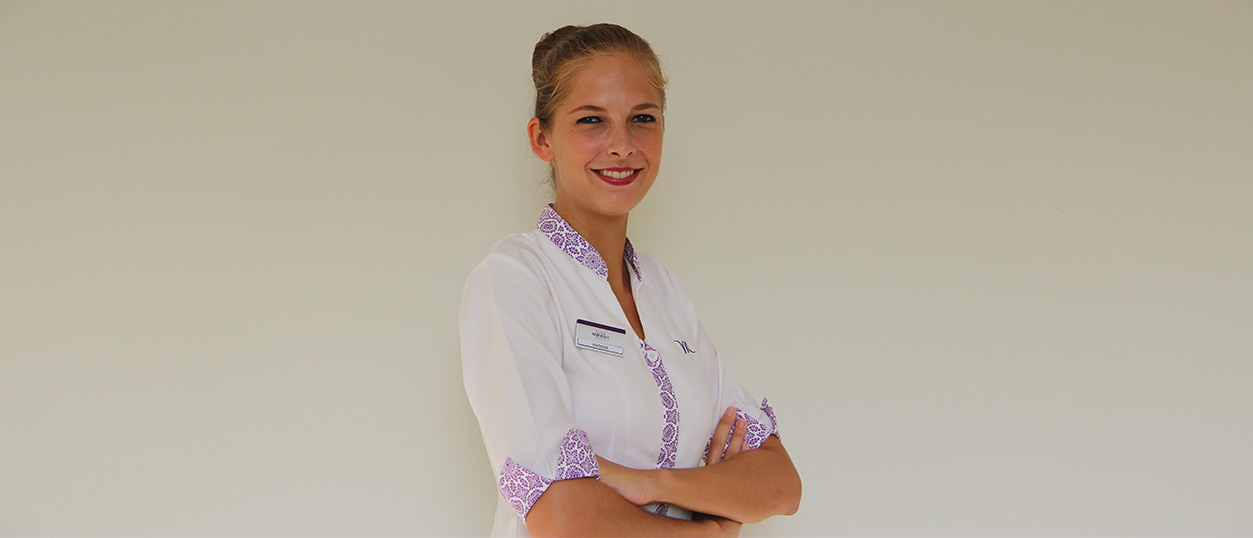 Mercure Bali Nusa Dua holds no secret for Mathilde Hénault, its Guest Relation Intern. Read her inspiring experience and anecdotes about working 12,000km away from home.
When did you join the Group and what did your discovery report contain? 
I arrived in Bali on 27 February and my internship began on 1 March 2017. I am the only intern at the Mercure Nusa Dua and I lend a hand to everyone in the team, though they are not used to delegating. In addition, my Western origins were a surprise to a totally Balinese team. It was up to me to make myself accepted, to make them understand that I was no different to them and that I was not there to judge them on their work but that, on the contrary, I needed them to help me learn. It's up to me to show that I am available and to see who I can help. Luckily, in this regard, my manager, Edgard, was there throughout my internship to make sure that I could progress and learn …
Why did you choose AccorHotels?
Above all I chose AccorHotels because as world leader with 4,100 hotels located all over the world, it offers international career prospects. And who doesn't know AccorHotels? Also, it seemed more accessible to me and I totally agree with its values and corporate culture which puts human beings first.
And then, the idea of working later on in this big group which I have admired for so long is very motivating! More than half of its hotel managers are promoted internally, climbing the ladder gradually to reach this much sought-after position. I have also read a lot of articles on the professional experiences of certain employees who work abroad in countries such as Dubai, Singapore and Shanghai, which have given me inspiration in drawing up my career plan.
What do you like in this internship?
I love working at the Mercure Nusa Dua in Bali and I don't regret choosing to go there. Being the only European, or "bule" as the Indonesians call us, sets me apart from the hotel employees; I don't go unnoticed! All the employees know me and the customers ask me a lot of questions about why I am here and recognise me when they come back! Working in the front office is a new experience for me and I couldn't imagine a better position. The way we welcome guests is completely in line with the AccorHotels #FeelWelcome promise and I make an effort to ensure that our hospitality is perfect every day.
For me, travelling means learning about a country through and with its inhabitants, sharing the richness of a new land... The employees at the Mercure are so lovable, welcoming, smiling and generous: all the qualities needed to be a good hotelkeeper! I feel totally at home and integrated thanks to them. I have even learnt a few words of the Balinese language and can count up to 5! It seems to me that living in a foreign country requires a lot of effort but it also teaches me a lot about myself.
Do you have an anecdote to share with us?
It's difficult for me to choose just one! My life in Bali is full of anecdotes, both professional and personal. But it's true that there is one which is especially dear to me and I would like to share it with you today.
It concerns the Balinese religious traditions. Bali's name, "the island of gods" is well-deserved! Life is a succession of religious holidays and on 15 April it was the "Kuningan" day. For this occasion I wore the traditional costume worn by all the hotel's staff members. I was very touched by the kindness of my colleagues who took the time to assemble my costume and to lend me an accessory to give it the finishing touch … and then, there was the "Silence Day". There were no planes at Denpasar, the airport was closed for this sacred day. The streets of Bali were deserted, except for the local police patrolling each village to make sure that nobody went outside and that guests stayed inside their hotels…  Incredible! Where else could I have learnt all that? Nowhere!
Advice for joining AccorHotels: what are your tips from one student to another?
To join AccorHotels, or any other hotel, it is very important to prepare oneself and that starts with the CV and covering letter! Give your real reasons and avoid ready-made phrases! To know as much as possible about the subject during the interview, I spent a lot of time reading the official AccorHotels website as well as that of the Mercure Nusa Dua to learn about their latest news and their values. It is very important to identify and understand the corporate culture before applying, because each hotel group is different and is not a good match for everyone. I advise you to read their article "Our advice about applying" where all the procedures for preparing an application are laid out and explained. To sum up, be open, respectful, grateful to the country where you are staying and even more so with the team which makes time to teach you all the ins and outs of the profession.
What do you want to do after your experience at the Mercure Nusa Dua ?
Next November I will start my third year at the Vatel School in Paris.  My next aim is to prepare the entrance exam to get into a business school to do a bachelor's degree because I would like to make a career in hotel management.