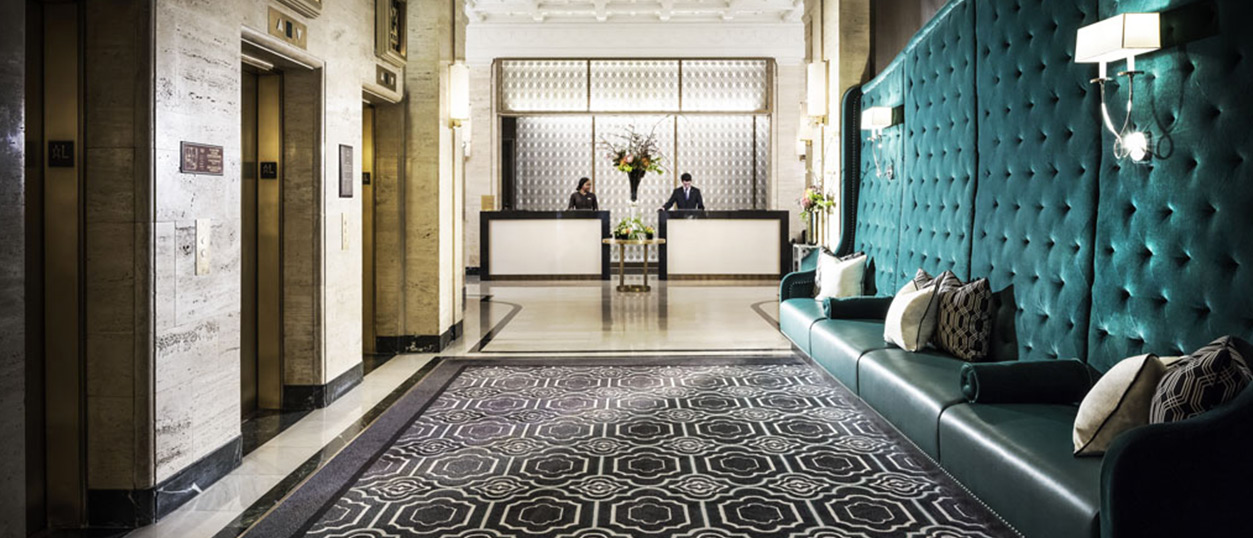 The Sofitel Washington DC Lafayette Square now pulses to the beat of fashion from two great cultural capitals. The establishment has been absolutely transformed in an elegant celebration of the bonds between America's and France's capitals:
Guests fall under its spell as soon as they enter the hotel, charmed by the elegance, color schemes, and blend of fashion and history. Every detail is mixed and matched to create an Art Deco atmosphere with shades of black and white captured by light touches of green in a style typical of Paris in the 1920s.
This transformation, which lifts this address into the realm of French elegance and savoir-faire, was managed by the CBT Boston design team.
We are excited to reveal the renovation which showcases our history of design and fashion and the connection between Paris and Washington, D.C. and share the love of these two cities with our guests. Our hotel has always been a luxurious addition to the Washington, D.C. market and this renovation reinforces our positioning.
When two major fashion names meet
The Sofitel Washington DC Lafayette Square imposes its vision of chic in a perfect blend of styles inspired by the two superb metropolises of Paris and Washington D.C. In a play on the juxtaposition of these two very different worlds, this establishment is an ode to the elegance of two iconic fashion figures: Jacqueline Kennedy and Marie Antoinette.
Indeed, as you enter the lobby, you will see an imposing statue as well as a large baroque style bench seat that captures the grace of both the Château de Versailles' green gardens and the White House's Green Room.
The 237 rooms have also been meticulously refurbished and feature a soft, stylish cosmopolitan-chic setting inspired by both great cultural capitals.
Our guests truly love our new rooms; the new décor gives a modern yet warm feel that pleases a wide range of clientele
The Prestige Suites feature an incredible chaise lounge reminiscent of the White House's Blue Room, as well as a blue duvet cover inspired by the sublime "French Blue," or "Blue Diamond of the French Crown" which was the largest diamond of this color ever found to this day, and belonged to Marie Antoinette.
This tone also inspired Jacqueline Kennedy, a charming personality on the American political scene. The former First Lady's presence is felt throughout the hotel, where you will find her most famous quotations as well as her unparalleled sense of vintage fashion in the corridors, elevators and the library.
With great tact and delicacy, this address has therefore established itself as a lively international establishment that subtly blends American history with French art de vivre.