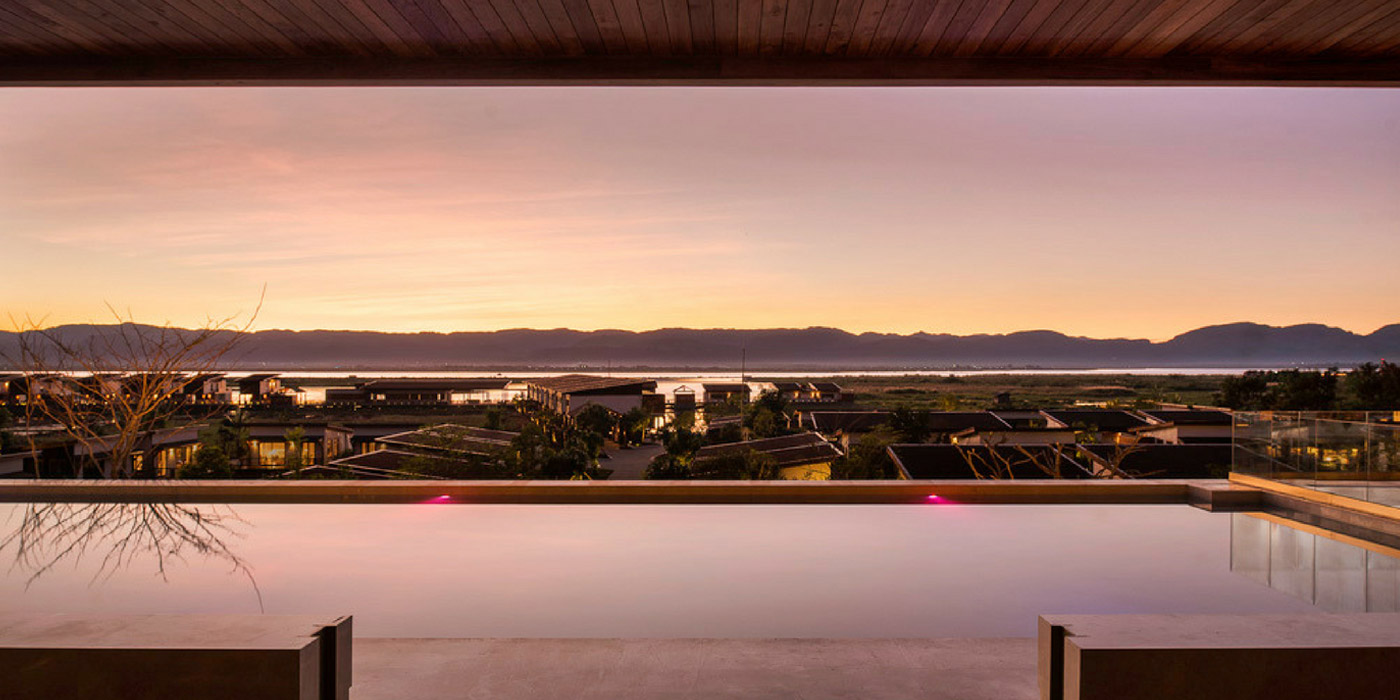 How about sipping a cocktail as you enjoy an incredible view over Inle Lake? Now it's possible with the brand-new Sofitel Inle Lake Myat Min!
Nestled amid 8 hectares of rice fields and floating gardens, the Sofitel Inle Lake Myat Min opened in Myanmar on March 5th.
A ride through "the land of a thousand pagodas"
Lying at an altitude of 800 meters, Inle Lake is Myanmar's second largest lake. Let yourself be gently rocked by its waters, stretching over 120 km2 and take advantage of it to set off in discovery of the country's most beautiful sites! Travelling by longtail boat, you'll meet local fishermen to learn the secrets of their traditional fishing technique. Make your way between the houses built on stilts and rejoin the shore to visit the Pindaya Caves with their 10,000 Buddha statues.  Further south, the Karenni and Padaung women, with brass rings coiled around their elongated necks, have opened their settlement to visitors.
Colorful cocoons
The establishment welcomes you to its 101 rooms with their large terraces, perfect for admiring the view. You won't believe your eyes! A breathtaking panoramic view over the mountains or Inle Lake awaits you. Every day, you can enjoy an astonishing sight: the mist lifting at daybreak, revealing the lush hillsides and floating gardens surrounding the hotel.
The address also has 3 types of villa: Field Villas with their warm shades, natural woven fabrics and colorful throws, inspired by the traditional scarves worn by the women of the Pao ethnic group, and Marshland Villas which are nearer the water and have canopied four-poster beds. They resemble the houses on stilts typical of the region, with green tones also highly popular with the Padaung women. The Lake Villas enjoy a lakeside location and feature the blue shades of the traditional costume worn by the men of the region, called a longyi or paso.
Gourmet food & cocktails
Both the restaurants at the hotel have but a single aim: to delight you. Firstly, there's the Epicerie's wide selection of local and international dishes, with its buffet and à la carte menu. Then there's the organic gourmet restaurant, the Back Yard, with its aromatic regional dishes. 
When it comes to bars, the Lobby bar has a wide choice of drinks and wines from around the world while the Smart Moose is the perfect spot to relax with a cocktail, in the sublime setting offered by the surrounding landscape.
And to make sure your stay includes plenty of relaxation, stop by the fitness and wellness center and take a dive into one of its 2 swimming pools.