Brands
Sofitel, MGallery & Emblems: Promising a Modern Luxury Hospitality Experience
The iconic Sofitel, MGallery & Emblems brands within Accor's brand-led Luxury & Lifestyle division are part of the same entity, yet remain distinctly unique. The 240+ hotels in over than 60 countries strive to spark emotion through tailored, unforgettable guest experiences.
Diving into Luxury à la Française
Collectively, Sofitel, MGallery and Emblems brands share the same DNA and thirst for excellence. However, each of these brands are singular in their positioning, local market approach and the manner in which they foster relationships with owners and address their needs. The 60-year old Sofitel brand is one of Accor's signature brands and the first French luxury hotel brand to blend the French art-de-vivre with the essence of destinations around the world. The six Sofitel Legend iconic and timeless addresses are landmark establishments where heritage meets modernity. Meanwhile, MGallery invites guests to unlock and collect unique moments inspired by the history and environment of each of the boutique hotels in its curated collection. One of Accor's latest collection brand launches, Emblems, is on par to shake up the luxury market with the roll out of handpicked locations, each with an intimate, personalized feel.
Enhancing the Guest Experience and Relationships with Owners
In order to enhance and deepen brand desirability, the brands are working to ensure consistency among hotels of the network. This starts with elevating the guest experience through new F&B&E concepts, iconic collaborations and partnerships. It also includes initiatives such as "The Purist" wellness label, which introduces a holistic wellness approach by zeroing in on care, movement, nutrition and sleep at select properties.
To better service its owners, each of these brands has also been working to enrich brand credibility by creating a lean organization that ensures cultural relevance through identified expertise and objectives. As with every project, success here lies in the hands of Heartists®, which is why the entity, much like Accor itself, is keenly focused on attracting the right Talent, developing leadership excellence and cultivating a culture of passion and a sense of belonging among all of its team members.
F&B&E at the Core of the Brand Experiences
The entity intends to build the brand experience around a dedicated F&B&E structure. Newly-appointed Corporate Executive Chef, Anne-Cécile Degenne taps into more than 20 years of hospitality and restaurant experience in the Caribbean, the U.S. and Asia, to share expertise with Chefs around the world. Degenne is working with properties to develop unique and standalone concepts that sustainably explore the intricacies of bonafide local cuisine, establish a community of Chefs to foster creativity and engage with renowned Chefs to invent unforgettable dining experiences.
Sustainability is at the very core of Degenne's philosophy ౼ which means reducing food waste, prioritizing local and seasonal products and promoting quality versus quantity. This approach also focuses on instilling awareness among guests and meeting their growing demands for local, artisanal and authentic dining experiences.
Anne-Cécile Degenne Shares Her Take on Her Fresh F&B&E Strategy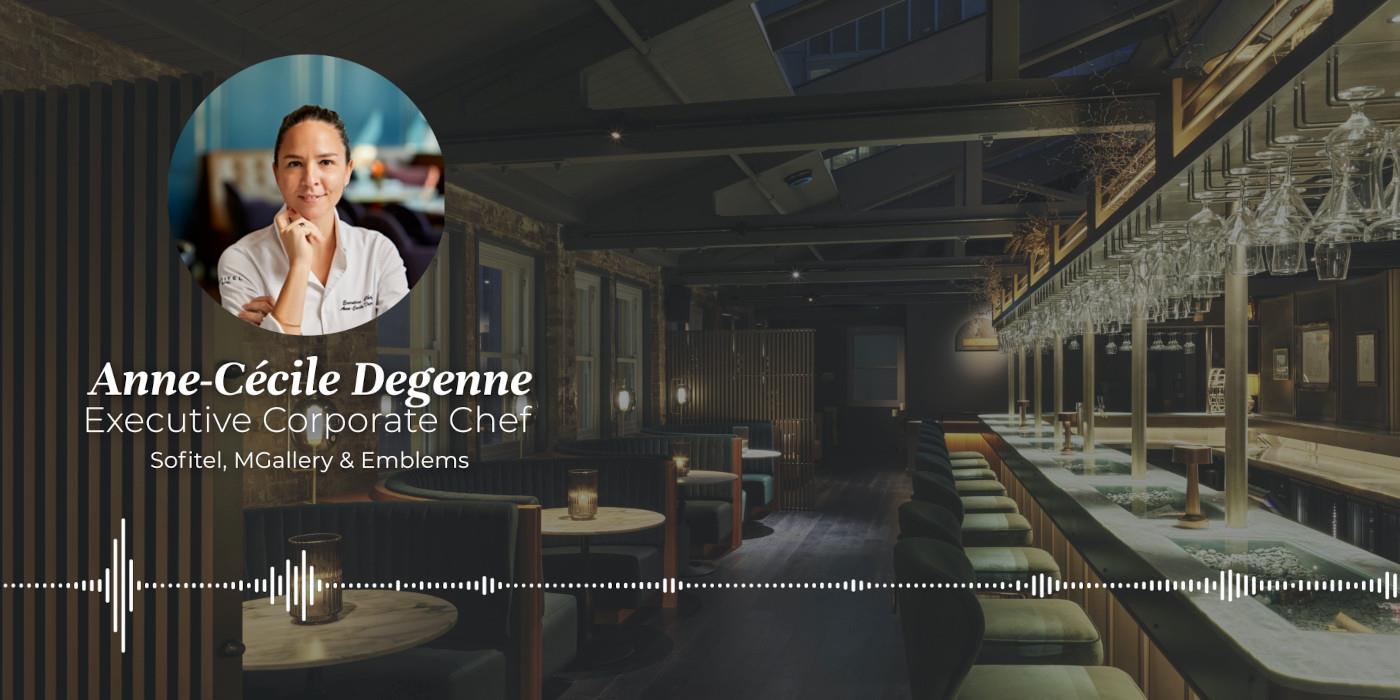 To discover more, click here to listen to Anne-Cécile on the Travel that Matters podcast
Excitement Brimming on the Horizon
Looking ahead, Sofitel, MGallery and Emblems are all headed in the same direction ౼ towards growth and an ever-expanding geographical footprint. This growth will be fueled by wins in key markets through a flagship strategy, a focus on increasing the quality of leads and enriching the pipeline with resorts and branded residences.
With 28 hotels in the works, Sofitel will push for robust development in Europe while capitalizing on growth in Mexico, Vietnam, Thailand, India, the Middle East and China. MGallery will keep pace with its exceptional growth, with more than 50 hotels already in the pipeline, and an increased focus on Southern Europe, China, South and Central America and the U.S. Meanwhile, Emblems is on track to launch 60 highly-selective venues in key cities and resort destinations over the next 10 years.