Strategy
ALLSAFE, an enhanced label that ensures complete peace of mind in our hotels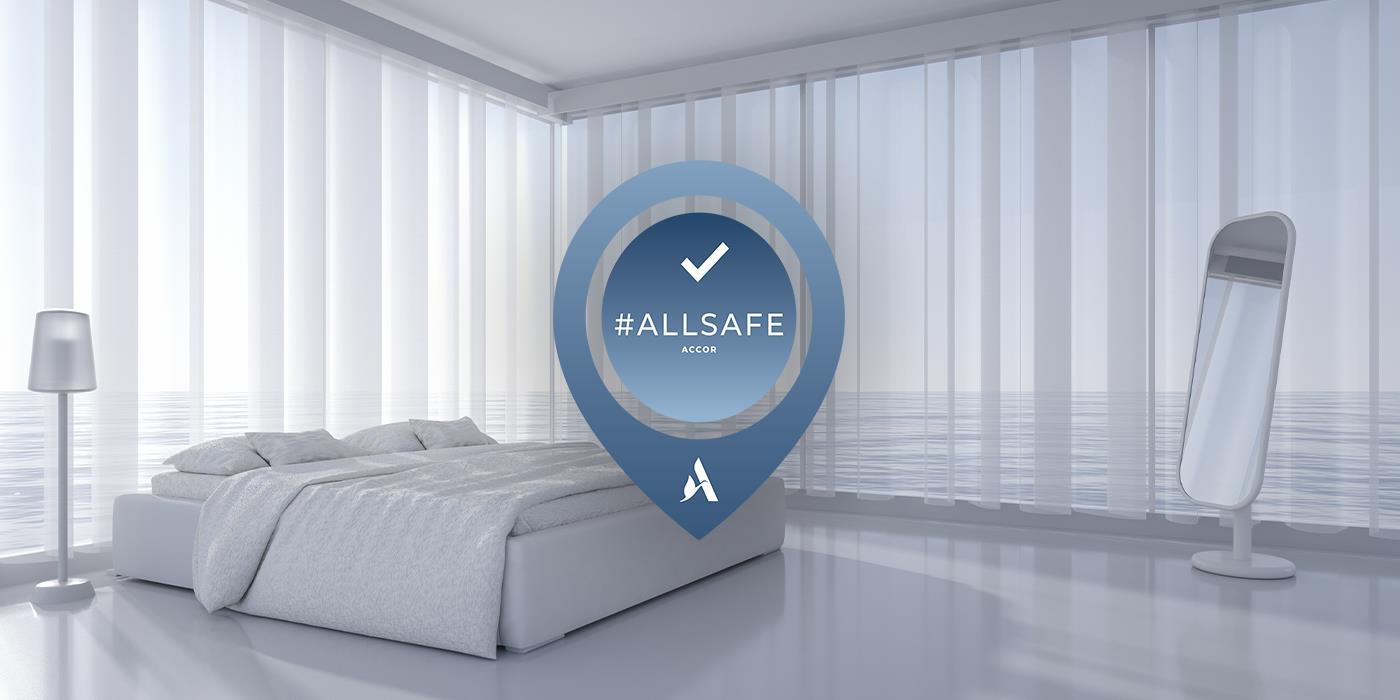 The health, safety and well-being of our teams, guests and partners remain our absolute priority. Accor keeps everyone safe before and during the hotel stay with stringent global health and prevention standards and innovative medical support services in partnership with AXA. 
Our duty as an international hospitality leader is, and always has been, to welcome our guests in the best possible conditions and offer them services that guarantee their safety and well-being. The new work and life styles spawned by the Covid-19 pandemic have had a profound impact on the hotel industry, prompting us to change the way we do things and adapt to our guests' new expectations in order to restore their trust and revive their wanderlust.
To ensure guest and employee safety when we reopened our hotels in May 2020, our Group launched ALLSAFE, a hygiene and cleanliness label that guarantees our guests complete peace of mind. It does this in three ways with: the most stringent cleanliness standards and operational procedures in the world of hospitality, accredited by auditors including Bureau Veritas; medical assistance in collaboration avec AXA Partners with free access to medical teleconsultations and an on-the-ground network of vetted health professionals including laboratories for Covid-19 testing; contactless digital solutions to ensure social distancing and minimize the handling of devices.
There is a real need for reassurance, simplicity, and seamlessness in the tourism sector, and at Accor we continue to train our teams and enhance our ALLSAFE label. All these initiatives reassure our guests as they prepare to travel and enable us to offer them a warm welcome while minimizing physical contact, as well as a wide range of services so they enjoy complete peace of mind in our hotels.
Throughout this difficult period, our teams have consistently enhanced our already stringent protocols and offered innovative solutions while continuing to take care of our guests and guarantee everyone's safety and well-being.
Hygiene and cleanliness protocols developed with Bureau Veritas
The label's stringent hygiene and cleanliness standards have been developed with and vetted by Bureau Veritas, a world leader in hygiene and cleanliness inspections. Virtually all our hotels apply these standards. In order to obtain the ALLSAFE label, they are audited either by Accor operational experts or by third-party auditors like Bureau Veritas. Across the Group, our priority is to adhere to the ALLSAFE standards, and maintain and enhance them to ensure the label is up to date with the health situation. These new standards include an enhanced room cleaning program, social distancing measures throughout the hotel and specifically in the public areas, and more.
To date, 98% of the Group's hotels worldwide already comply with the ALLSAFE protocols. We continue to train our teams and the remaining hotels will be inspected.
Innovative medical solutions with AXA Partners
Our strategic partnership with global insurance leader AXA rounds out the measures taken to provide the reassurance hotel guests need. This service offers our guests AXA's most recent advances in telemedicine, with free access to medical teleconsultations in 90 countries and to the extensive AXA Partners network of tens of thousands of vetted health professionals (GPs, dentists, gynecologists, etc.). In a recent addition to the service, in many regions, guests now also have access to laboratories near our hotels for Covid-19 testing.
Some 3,600 Accor hotels, or 78% of our network, now offer the medical support service with AXA Partners, and we are continuing its rollout.
Contactless solutions throughout the stay
We are convinced that digital technology is the best way to guarantee a safe and seamless guest experience, while maintaining the human touch in our hotels. Our Group has introduced several contactless solutions for a digital experience at every stage of the guest journey. These include online check-in before they arrive, keyless entry to their room with Accor Key, and online payment solutions like Pay By Link for in-hotel purchases made during their stay.
In April 2021, we started rolling out ALL CONNECT in our hotels around the world. This new hybrid meeting concept powered by Microsoft Teams allows our hotels to organize meetings that combine in-person and remote attendance offering participants a safe and enriched experience which is the new benchmark solution for meetings.