Excitement builds as the brand is set to double its hotel portfolio by 2025 and several highly-anticipated properties prepare to open their doors and introduce guests to a distinctly Raffles experience in new destinations.
Across the world, the revered brand is synonymous with a gracious welcome and an enchanting guest journey. This reputation has been cultivated since the very first hotel opened in Singapore in 1887. Each property to join the family of fabled hotels offers its guests the same legendary service, creating a uniquely emotional luxury experience. In this period of exponential growth that the brand is experiencing, with openings in Doha, Boston, London, Macau, Bahrain, Jeddah and Sentosa, Raffles is committed to sustaining its spirit of adventure, timeless elegance, and legacy as an authentic champion of culture in all its forms.


Innovative Hotelcraft Turns Heads in Doha
The opening of Raffles Doha started 2023 on a high note. Situated within the Iconic Towers, a new avant-garde landmark for the city, Raffles Doha is an environment to savor and a superlative experience to match its surroundings. The all-suite resort features intricate craftsmanship, artistic experiences and the truly personalized Raffles Butler service. Guests are invited to feast on refined Italian dishes at Alba restaurant by three-starred Michelin Chef Enrico Crippa, among several other cocktail bars and restaurants.


A Stand-out Luxury Experience in Macau
The Summer 2023 opening of Raffles at Galaxy Macau raises the bar for luxury hospitality in a region where ultra luxurious accommodation and personalized experiences are in high demand. The flagship features 450 sumptuous suites, stunning east-meets-west decor and no fewer than 100 of the famed Raffles Butlers. Its show-stopping lobby ౼ lushly landscaped with trees, plants and seasonal flowers ౼ is not only a nod to nature's beauty, it also conserves energy and water and reduces carbon. The new city landmark embraces an expansive spa and world-class collaborations with the region's finest culinary talents ౼ including Japan's three-starred sushi Chef, Masaaki Miyakawa.


A Fresh Take for Discerning Guests in Boston
The grand opening of Raffles Boston in September 2023 marks several firsts ౼ for the city itself as well as for Raffles. The 35-story urban oasis marks the brand's debut into the North American market. As the first mixed-use space ౼ combining 147 traditional guestrooms, 146 branded residences, 16 distinct gathering spaces and a Guerlain spa ౼ the property redefines hospitality and real estate in Boston. The hotel rises from the Back Bay neighborhood, the historic heart of Boston, offering a dynamic new perspective on the city. Curated experiences will capture the city's rich academic, sporting and cultural characteristics. The hotel's Sky Lobby offers a fresh take on shared space as well, inviting guests to experience diverse amenities including the hotel's signature restaurant, Amar, and options for cocktails and more.

Acclaimed Michelin Starred Chef George Mendes on Raffles Boston's Culinary Vision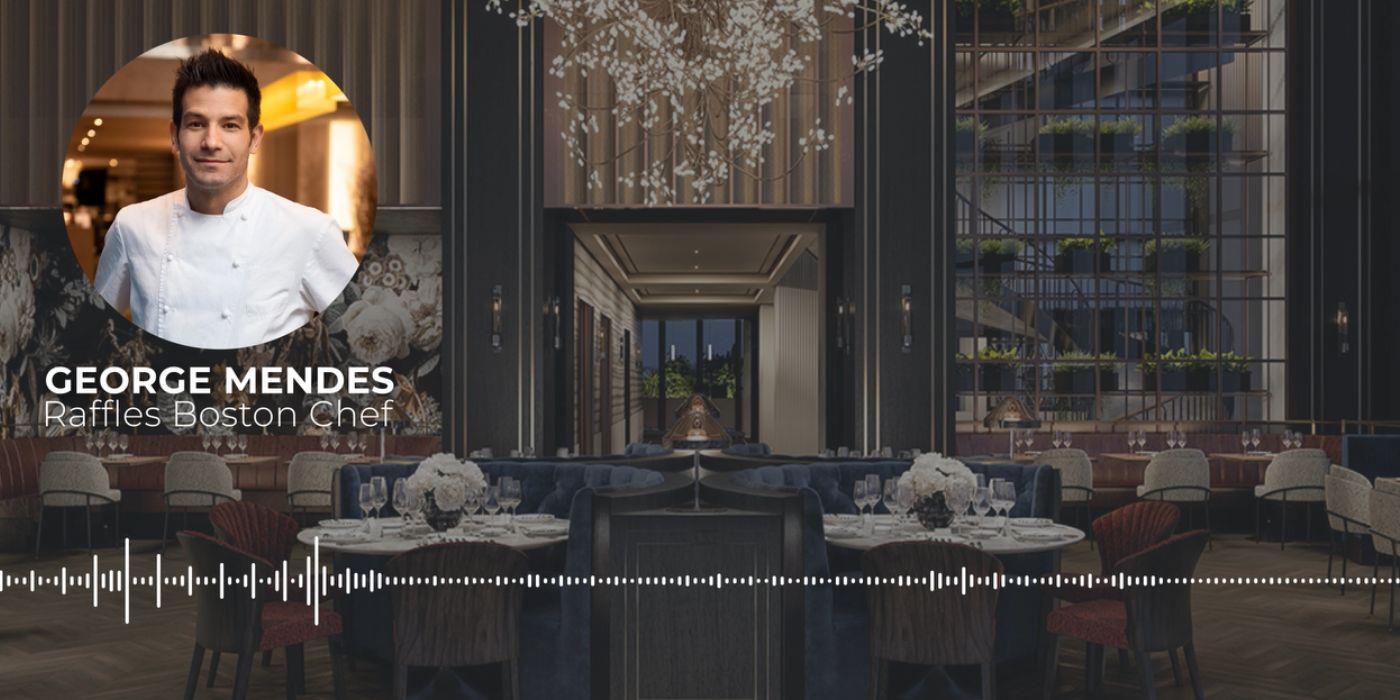 Click here to listen to George Mendes in 'Travel that Matters' podcast series discussing the culinary program at Raffles Boston and how his Portuguese heritage has influenced him, as he returns to his New England roots.


An Invitation into London's Storied Past
In September 2023, the historic Old War Office, former stomping ground of Britain's most famous statesmen and spies, will open its doors for the first time and welcome Londoners and visitors alike to Raffles London at The OWO. Eight years in the making, the meticulous restoration is a true architectural masterpiece. The renovated space now features 120 rooms and suites, 85 spacious private residences, nine restaurants ౼ some helmed by Michelin-starred Chef Mauro Colagreco ౼ and three bars, a Guerlain Spa and Pillar Wellbeing, all curated with the unmistakable Raffles touch.


More Exciting Openings on the Horizon
The expansion of the Raffles brand will continue well into 2024 and beyond with the opening of further properties. Late 2023 Raffles Al Areen Palace & Spa – the 'palace of the secret garden' – is set to open in Bahrain. In 2024, the brand will return to its birthplace to open the all-villa beachfront Raffles Sentosa Resort & Spa, exhibiting the purest expression of luxurious hospitality. Later in the same year, Raffles Jeddah will join the fold and welcome guests into a culturally-inspired property with a design that draws upon its unique surroundings. Indeed, the brand will grow a rich and diverse presence in Saudi Arabia with Raffles Riyadh, Red Sea and Raffles Diriyah Gate set to open in the next four years, embodying refined elegance in the way that only Raffles can.