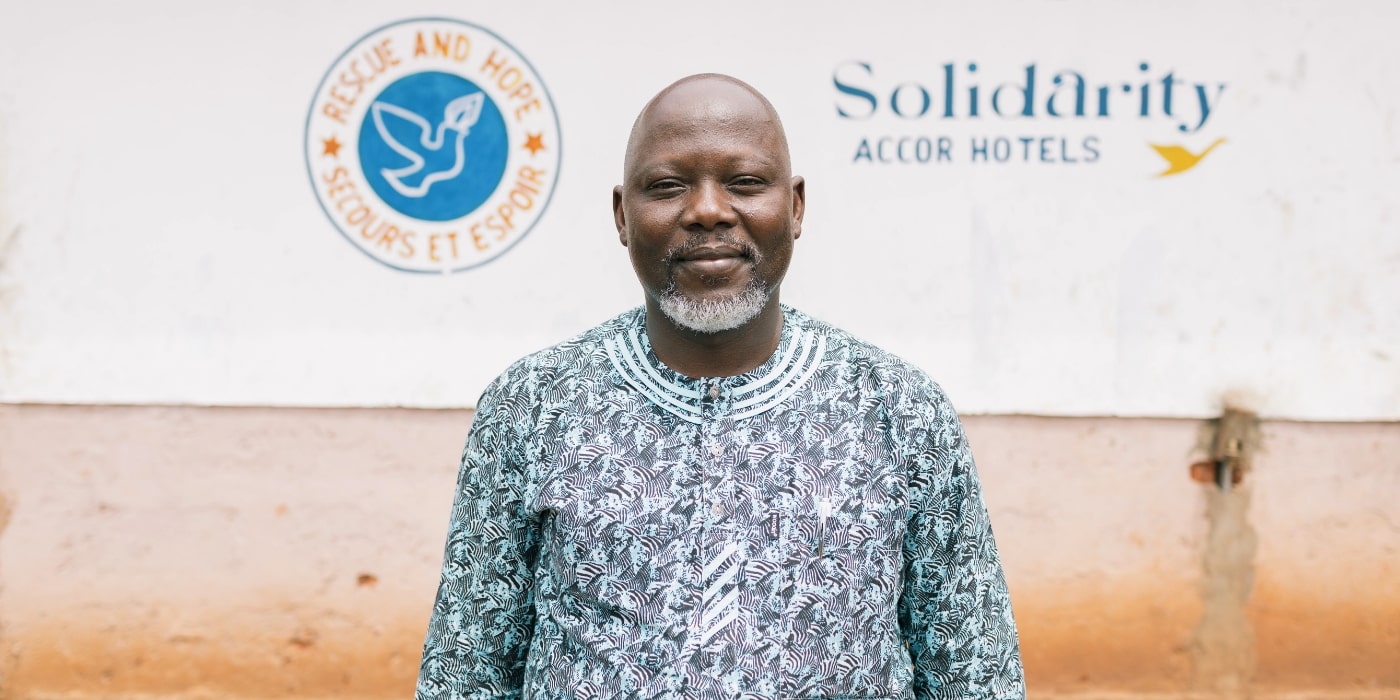 Solidarity AccorHotels has been supporting the Rescue and Hope association since 2016 and the creation of a training centre for people in difficulty in the processing of agricultural and cosmetic products. Novotel and ibis Cotonou Technical Director Honoré Konnon support the NGO.
Rescue and Hope, a Beninese NGO created in 2008, supports vulnerable people through health, education, training and integration programmes. It aims at the health well-being of these vulnerable groups as well as their social and economic emancipation.
In 2016, the association is launching a training centre and Solidarity AccorHotels supports its the creation, enabling 50 young people to be supported in their training but also 10 women's groups in their income-generating activities. In 2018, the Rescue and Hope team successfully expanded the centre and purchased new equipment to satisfy its 1,500 beneficiaries and users. 
Interview of Honoré Konnon, a committed employee
All projects supported by Solidarity AcoorHotels are initiated and supported locally by committed employees. In Benin, alongside Eric Houot, General Manager of Novotel and ibis Cotonou, Honoré Konnon, Technical Director, was involved in supporting the NGO. 
"I joined the NGO Rescue and Hope in 2016. Eric Houot, General Manager of the Novotel and ibis in Cotonou was due to visit the NGO's training center, created with the support of Solidarity AccorHotels, and he asked the members of the hotel's Environment Committee - of which I am a member – to join him, and I was happy to.
Rescue and Hope trains young people, and provides equipment to women's groups in nearby rural areas. Examples include traditional steam cookers and oil presses for palm oil extraction. Access to this equipment means they can generate income and therefore, gain independence. 
I was able to put my skills as Technical Director to use and offer advice in terms of selecting and maintaining the equipment to make the work easier, to prevent wear and tear, and to ensure product quality. 
I also advised them about thermal insulation and safety processes, among other matters. I also have energy engineering training, and it is something I am passionate about: I am always researching ways to reduce energy consumption, and to implement heat recovery systems and soon. In this project, there was a lot of waste derived from processing, such as palm kernel fibers, which could be used as fuel in place of wood to avoid deforestation."
I enjoy using my knowledge to help an NGO because it expands the scope of my abilities.
"Even traditional equipment can be optimized with innovative processes. It is better for the environment, and it increases the profitability of a project. 
There is still much to do in our country, but people lack the resources and technical capabilities. Projects like this don't come along often, and it's a joy to contribute my knowledge. My parents were farmers. I know rural life well. It was formative for me and brought me a lot. Now, it's my turn to give something back."

Would you like to discover other portraits of actors involved with Solidarity AccorHotels?