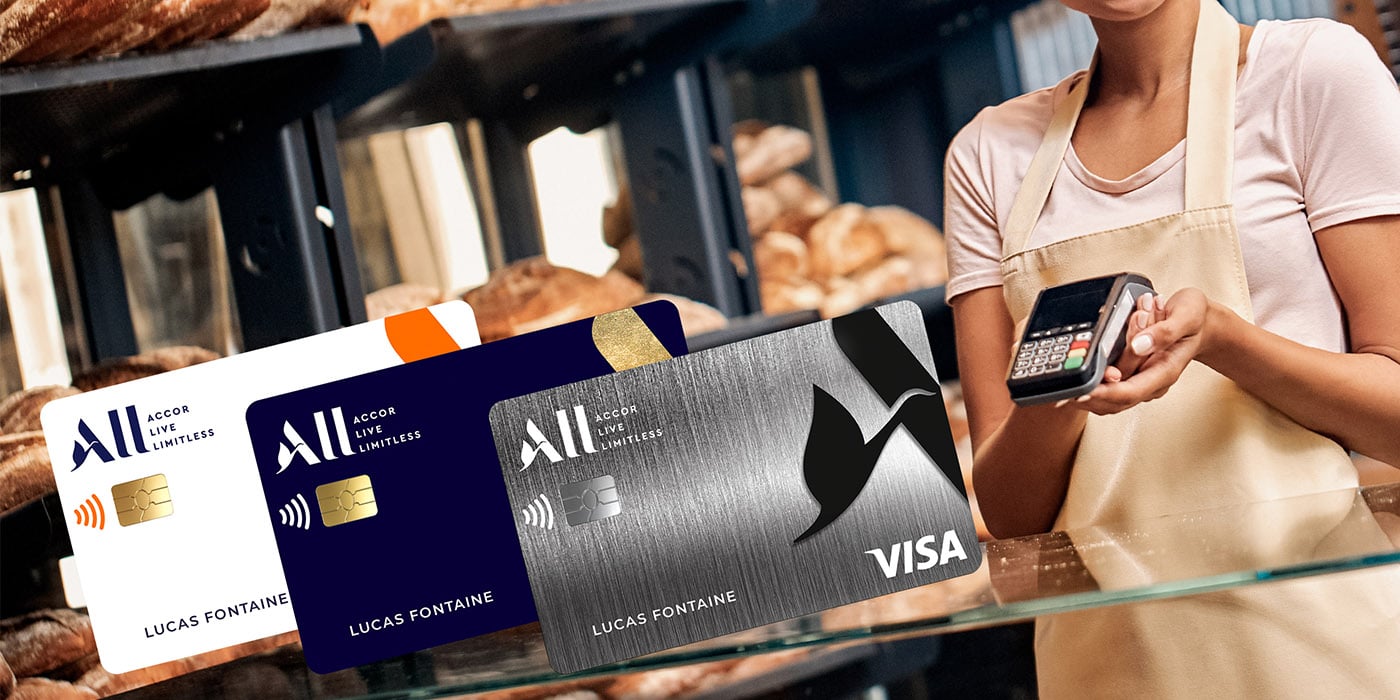 The ALL – Accor Live Limitless loyalty program is offering new services — further enriching its customer experience — by launching a payment card in partnership with BNP Paribas and Visa.
« Our partnership with Visa and BNP is the result of a strategic desire to establish a closer and more direct relationship with our best customers. The ALL – VISA payment card brings together an ecosystem of services and benefits that support members before, during, and after their stay; therefore becoming a daily companion. Our goal is to allow everyone choose the card that best suits their lifestyle—all without changing banks. » Mehdi Hemici, SVP Loyalty and Partnerships.
Around the world, card payments are expanding rapidly, especially with the advent of "contactless" payment for small value amounts and e-commerce transactions. In response to changing banking practices, Accor is meeting customers' needs and supporting their everyday lives by launching a payment card through its loyalty program. The goal? To meet changing expectations and provide even smoother and more interconnected experiences.
Until now, members of the ALL loyalty program have enjoyed personalized offers to live, work and play in the world of travel, sports, restaurants, entertainment, etc. Already available in France, the ALL – VISA payment card means that ALL is open to as many people as possible by letting members collect points on daily purchases.
« With this card, we are giving our members the opportunity to continue earning loyalty points and enjoying the benefits of ALL – Accor Live Limitless beyond the hotel experience, while maintaining that relationship. This is an opportunity for prospective members to access new experiences and a hotel Lifestyle universe. » Patrick Mendes, Group Chief Commercial Officer in charge of Sales, Marketing, Distribution and Loyalty.
The ALL – VISA payment card is a real driving force for strengthening the Group's "Augmented Hospitality", a holistic vision of hospitality and bespoke services for everyday life that extends beyond hotel stays. The card represents a key asset for Accor in customer engagement, where new services shall further leverage the position of the Group's ALL loyalty program as a lifestyle companion with new services. This partnership with BNP Paribas puts one of the cornerstones of Accor's loyalty-building strategy into practice. The launch of this payment card will also diversify the Group's revenue streams.
Access to unique experiences
The ALL – VISA payment card can be used within the VISA network, i.e., over 95% of merchants worldwide, which makes this undisputed banking and financial expert an ideal partner. With this payment card, members can earn Reward points on daily purchases at their favorite retailers and on their online shopping. Insurance coverage, assistance, and dedicated offers will also be linked to the card.
Each member is free to use their Reward points, wherever and whenever they wish. This especially applies to the 90 partners with ALL – Accor Live Limitless, including over 33 airlines or vehicle rental companies, 5,200 Group hotels and residences, and 10,000 restaurants across more than 110 destinations. There is a whole world of special privileges available to all cardholders, like unique and exceptional experiences, dream getaways in elite hotels, admission to the biggest events (Taste festivals, The French Open, etc.), unforgettable Arena concerts, or a PSG match from the VIP box .
There are three different tiers of ALL – VISA offered to members in France according to their needs, wants, and lifestyle: ALL – VISA Pulse, ALL – VISA Explorer, and ALL – VISA Ultimate.
How the card works is very simple. The cardholder pays for their daily purchases with an ALL – VISA card, and automatically collects points for the ALL loyalty program.
The registration process is simple, fast, and 100% digital thanks to the dedicated Accor Pay* app, created in partnership with BNP PARIBAS. This lets members fully manage their payment card functions by themselves. Customers can receive real-time notification of their purchases, which are withdrawn at the end of each month from an existing bank account.
You must be a member of the ALL – Accor Live Limitless loyalty program or become a member to sign up for the card. However, members do not need to open a new bank account.
The ALL – VISA card will gradually be rolled out across other European countries from 2022.