Talent & Culture
"Local Voices, Global Stories": a Podcast that Gives a Voice to the Talents Shaping the Hospitality of Tomorrow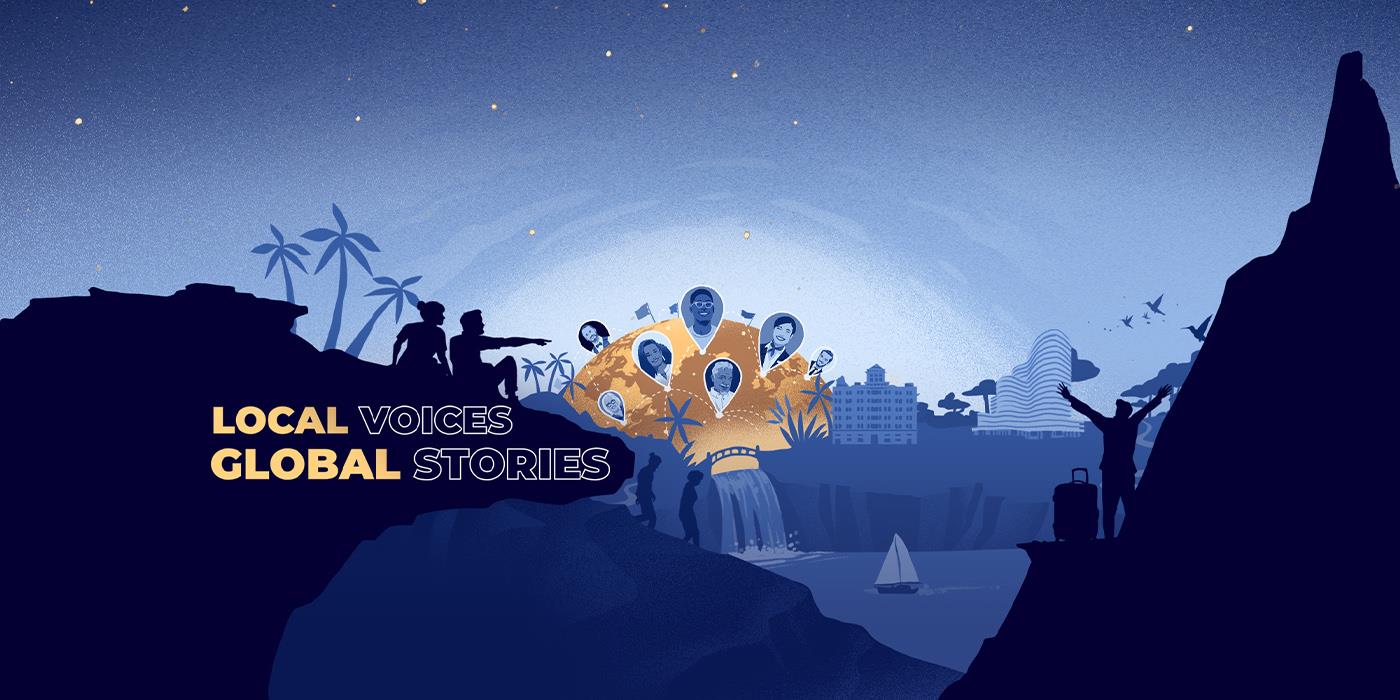 Accor launches a podcast diving into the stories of the people, places and initiatives from around the world that are shaping the hospitality of tomorrow, creating new innovative and meaningful experiences. Discover the voices of the passionate and dedicated people who bring it all to life.
Whether it's guest experiences, renovation projects, or responsible and committed initiatives, the "Local Voices, Global Stories" podcast aims to shine a light on the inspiring actions of our teams by giving them a voice. In more than 110 countries, over 260,000 Talents are working every day to spread our values and create experiences that are even more innovative and rooted in our guests' local communities. Their creativity, daring, and passion for service are the backbone of our Group, and are redefining the guest experience through innovative services that reflect the local culture. It is a daily commitment that also strengthens our vision of holistic hospitality, which positively impacts everyone involved, including teams, guests, partners, and local communities.
With stories told by the Talents themselves, Accor is highlighting its commitment to put people at the heart of its actions, and to positively contribute to communities where the Group operates. The series will take listeners on a journey across several regions, where they can learn about exciting projects by Group Talents.
#EPISODE 1: Driving Inclusive Hospitality for All

"Local Voices, Global Stories" caught up with Raul Almeida, Key Account Manager for Leisure and Connected Tour Operators, and Luis Santos, Deputy Manager at ibis Styles Anhembi (São Paulo), in Latin America. Both members of Accor's LGBTQ+ community and Diversity & Inclusion ambassadors in Brazil, they share their personal and professional experiences within the hospitality sector and the Group. With an LGBTQ+ welcome guide, partnership with IGLTA, the International LGBTQ+ Tourism Association, involvement in São Paulo Pride, and dedicated recruitment events—promoting employees' wellbeing and inclusivity for guests throughout hotels is a top priority for Accor.

#EPISODE2: Reimaging a Los Angeles Icon

The 2nd episode of the series highlights 3 Talents who contributed to a major project: the renovation of the iconic Fairmont Century Plaza which recently reopened in Los Angeles. Duane Mah, Director of Event Sales & Services, Philip Barnes, Regional Vice President for Southern California and General Manager of the Fairmont Century Plaza and Magdaleena Nikolov, General Manager of Spa, Wellness & retail at the Century Plaza, describe the ambitions behind this transformation and the experiences created to meet new guest expectations. The main objective was to preserve the hotel's incredible heritage while modernizing it and anchoring its services in the community.
#EPISODE3: Shaping Sustainable Travel Experiences

In the Maldives, Samuel Dixon, Amandine Vuylsteke and Giulia Pellizzato, Marine Biologists in 3 Accor hotels - Fairmont Maldives Sirru Fen Fushi, Pullman Maldives Maamutaa Resort and Raffles Maldives Meradhoo Resort - are shaping the travel experience for the future in this island paradise, by raising awareness and introducing guests to the protection of the fauna and flora, for generations to come. In this new episode of "Local Voices, Global Stories", they discuss their different initiatives.
#EPISODE4: Connecting with Indigenous Communities
In Australia, Josh Hanley, Senior Indigenous Programs Manager and Kedea Atherton, Indigenous Programs Manager Queensland Northern Territory & New South Wales, discuss the history and ambition of the indigenous employment program launched by the Group in 2001. This initiative strives to give all candidates a chance to shine, to ensure an inclusive workplace, and to promote the country's unique Indigenous culture.

#EPISODE5:
Creating the Culinary Experiences of Tomorrow
Find out how Accor creates groundbreaking F&B concepts and pushes culinary experiences to new heights in Dubai. Hear from the team behind the innovative service Kitch-In, Chef Izu Ani, co-founders Evgeny Kuzin, Yigit Sezgin, who reimagined food delivery service with zero compromise on taste, choice and quality, and Alfio Bernardini, General Manager of Grand Plaza Mövenpick, first hotel to implement this new concept. Then, discover SLS* Fi'lia's Head Chef, Sara Aqel and her authentic vision of gastronomy, and Ali Ozbay, Director of Marketing and Communications at Rixos Hotels, a pioneering all-inclusive resort, both offering unique experiences and making Dubai a go-to destination.


*SLS Hotels are a part of the Lifestyle Collective, Ennismore.


#EPISODE6:
Nurturing the Hospitality Leaders of Tomorrow
Discover how apprentice, Arianne Barnes, benefits from one of the Group's apprenticeship program at the Fairmont St Andrews, and how General Manager, John Keating and his assistant Philip Egan are mentoring young talents and nurturing the next generation of hospitality leaders. A more holistic approach of apprenticeship that allows home-grown talents to fulfill their careers at the Fairmont St Andrews and all over the world.



#EPISODE7: Designing an Innovative Paris Destination Hub
Accor's now writing the next chapter of hospitality blending strong human values, deep roots with their neighbors and innovative partnerships to deliver authentic experiences to guests. Because putting people first has been the focus in the reimagining of the hotel, let's hear from Pullman Paris Montparnasse Deputy Manager, Christoph Merz and Director of Sales Leila Salhi tell us about the human ecosystem that's blossomed both inside and out of the hotel.


Local Voices, Global Stories is a podcast from Accor, produced by BABABAM and hosted by journalist Olivia Salazar-Winspear.