Strategy
One skyscraper, four dimensions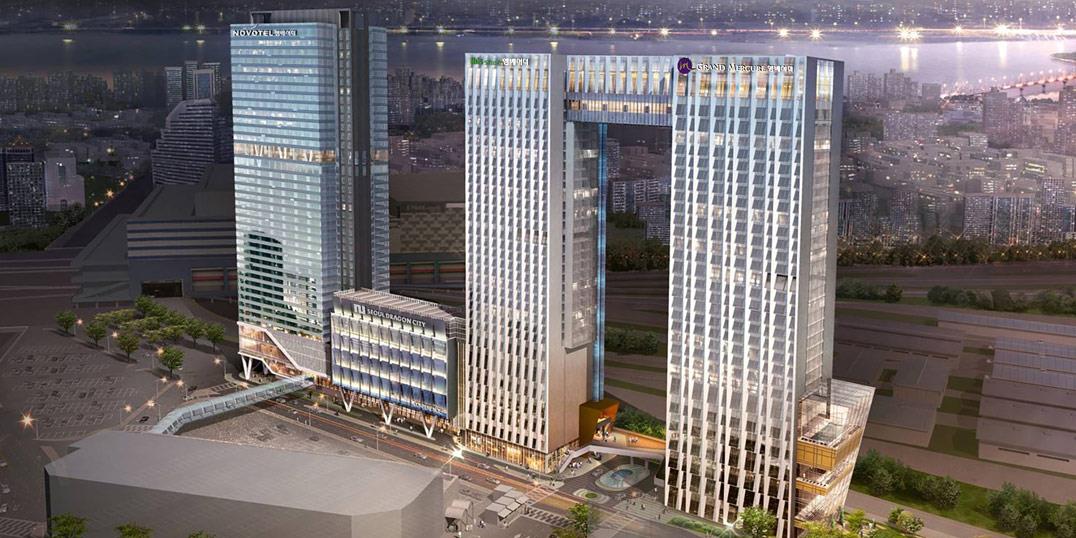 The very first "hotel-plex" will open its doors on October 1st 2017 in South Korea. Behind its doors, 4 brands: Grand Mercure, Novotel Suites, Novotel and ibis Styles.
In the heart of the capital, the Seoul Dragon City overlooks the Yongsan neighborhood, between shining buildings and gigantic shopping malls.
Dragon
In korean myths, the dragon is a powerful creature controlling the cosmos that embody wealth and success. It became the symbol of emperors and of a Joseon Dynasty's king.
The Seoul Dragon City is named after these legends and aims to reign on the city like the Yi dynasty at its golden age.
Local art local, suites and pop design
1,700 rooms, 11 bars and restaurants, 17 meeting rooms, 2 ballrooms, and an infinity of experiences for our guests.
At Grand Mercure Ambassador Seoul Yongsan, dive into local cultures with its engravings, photographs, furniture and regional objects. Refinement and authenticity are guaranteed.
A few corridors away, the Novotel Ambassador Seoul Youngsan offers, from its spacious rooms, a breathtaking view on the Han River.
In the fully-equipped rooms of Novotel Suites Ambassador Seoul Yongsan, you will feel like home, but better, with king size beds, modern desks and all equipments at hand (washing machine, dryer, microwave, LCD TV…)
As for the ibis Styles Ambassador Seoul Yongsan, it's a straight dive into pop culture, with its design spaces marked with a strong personality.
24 addresses
"2017 has been a record-breaking year for AccorHotels in South Korea, highlighted by this launch of the largest project we have signed in the country featuring four hotel brands in the same complex, including the introduction of Grand Mercure and Novotel Suites in this market.Together, the four brands can cater to the needs of every guest," Patrick Basset, Chief Operating Officer of AccorHotels, Upper Southeast and Northeast Asia.
By the end of the year, we will open 24 new addresses in the country, which will be followed by 8 new establishments within 2 years.
-
You won't regret it
For this spectacular opening, each brand of Seoul Dragon City offers its « Seoul Dragon City Amazing Opening Offer », not to be missed.