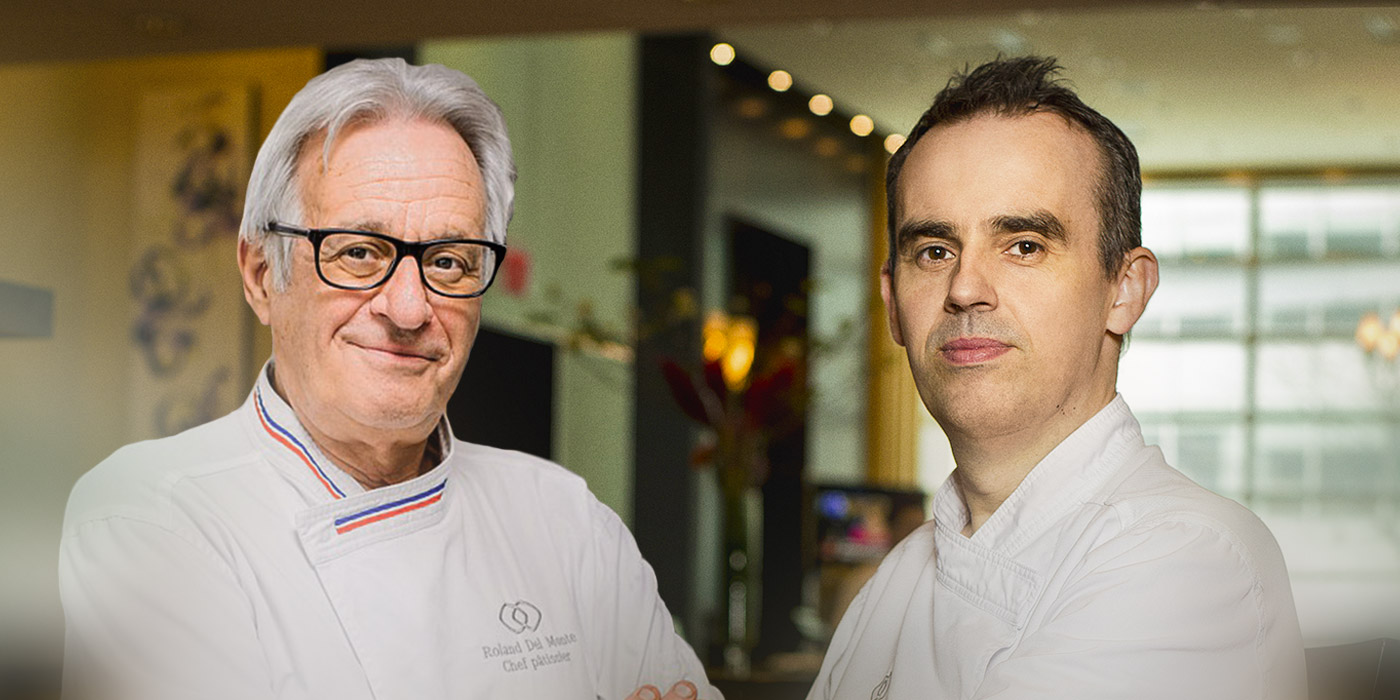 Whether you live in Montreal or are just there for a few days, there's one restaurant that's not to be missed: Le Renoir. This address within the Sofitel Montréal Golden Mile will be sure to delight you from breakfast through to dinner, with delicious but well-balanced gourmet dishes, taking the best of Quebecois and French cuisine. Today, Executive Chef, Olivier Perret and Pastry Chef, Roland Del Monte share their secrets with us!
First, we talked to the Executive Chef of Le Renoir, Olivier Perret - a recipient of the title of Maître Cuisinier de France:  
The dishes on your menu are delicious but at the same time healthy and balanced. You also offer a low-calorie menu. What's your secret to combining gastronomy and health food effectively? 
In my view, these days eating well means eating a balanced diet and eating healthily. Eating good produce, low in fat, cooking with an eye on the right balance of food ingredients: vegetables, legumes and pulses, fruits, cereals, protein, dairy products and so on. They all contribute to healthy and delicious gourmet cuisine!  
I myself have health problems and it's important to eat a balanced diet every day. This has influenced my cuisine and the gastronomic dishes we offer at Le Renoir. I use my knowledge of health food and nutrition (inspired by De-Light cuisine) when compiling my menus, for breakfast, lunch and dinner alike.
You are French by birth and by training but then moved to Quebec. So, there are two different cultures to be found in your dishes, combining traditional Quebecois fare and French recipes. Why do you match these two cultures together in your dishes?
It's my history! I think our experience today is the sum of the experiences we've gained with our teachers, mentors and chefs, but also our travels. After over 7 years as Executive Chef here in Quebec, I feel it is my duty to work with good local produce as a guarantee of freshness, but also with local producers who do their utmost, every day, to offer us the best! My team is proud to do the best possible work with the region's finest produce!
You're also a maple ambassador! What do your duties involve? How is that reflected in your restaurant?  
My role consists of highlighting maple-based products here in Le Renoir but also in Quebec. I have to create unique recipes for the Maple Federation which promotes them to the public. In that way, people get to know about this magnificent product and the various ways of cooking with it. So, I am committed to promoting maple in my restaurant and always having some maple-based dishes on the menu. I love revealing this product to guests but also to many Michelin-starred chefs who discover it and then adopt it!
What's your signature dish?  
Canadian lobster and maple-braised pork shoulder. A dish that features 3 key products local to Quebec: lobster, caught in our waters, Quebecois pork, which is highly prized and such good quality, and of course maple, which accompanies my cuisine here in Montreal!
Now let's meet Pastry Chef, Roland Del Monte,

Meilleur Ouvrier de France

. 


Le Renoir's daily selection of desserts is presented on a tray: why do you prefer this system rather than listing them on a traditional menu? 


The guest sees the dessert, there and then, so there's no need to imagine it based on the menu.
What got you into patisserie making? 


Honestly, it was because I just love food and have a sweet tooth!
You won the Meilleur Ouvrier de France award: what was your signature dessert? 


A hazelnut ice cream with a rich pistachio ganache and aged kirsch parfait. 
At Le Renoir, health and enjoyment of wonderful food go together. How do you combine these two when it comes to patisserie? Can you give us a good example? 


Yes, with the ingredients available these days, it's easy to create gourmet De-Light dishes. For example, coconut milk-infused chia seeds with a passionfruit, pineapple and mango compote, accompanied by a pine kernel nougatine tuile.