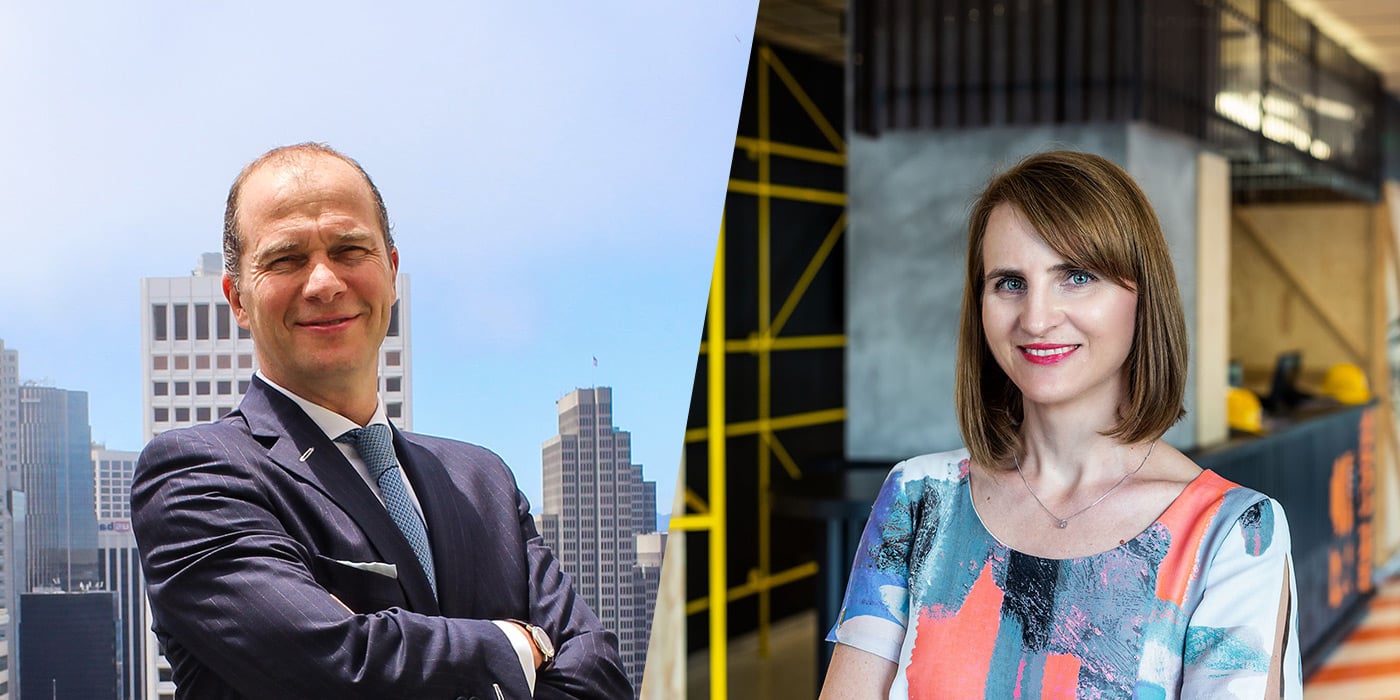 One from San Francisco, the other from Bucharest. On one side a hotel manager at Fairmont, on the other, a general manager at ibis. 2 very different personalities who meet in a joint interview to share with you their passion for hospitality. Meet Jacco Van Teeffelen and Felicia Dinca.
Director of Food and Beverage at the famous Savoy in London, then Hotel Manager of the Fairmont Grand Del Mar for over 3 years and now hotel manager of the Fairmont San Francisco (United States), Jacco Van Teeffelen has a career spanning more than 8 years at Fairmont.
Felicia Dinca joined Accor in 2002. From the economic department within the Group, she then worked at the Novotel Bucharest City Centre for more than 11 years. Today, she is the general manager of the ibis Styles Bucharest Erbas - the very first Styles ibis in the city, and manages a team of more than 30 people!

Interview with these 2 personalities....
Which moments in your career do you consider were key for your own development?

Jacco Van Teeffelen : Every step I made in my career had a significance on my development. My initial move to NYC was a turning point as well as my experience in resorts on the islands. I was able to see two sides of our industry. First I learned about NYC hospitality life and the drive to be successful on all levels at a high intensity. Thereafter I experienced a residency product, resort-style service and cultural differences where I learned to adjust my leadership style whilst maintaining quality, standards and the drive to be effective.
Felicia Dinca : I like to think of myself as a professional host. In the past 3 years, my team and I welcomed over 150,000 guests in two of Bucharest's most prestigious hotels - Novotel Bucharest City Centre and ibis Styles Bucharest Erbas. 

I started as a number cruncher in the economic department of Accor back in 2002. My passion for people and desire to support them in reaching their full potential has guided my steps to the HR department, where I acted as HR manager for more than 9 years. 

Later on, I accepted the greatest challenge and adventure so far, opening a new ibis Styles hotel, the first in Bucharest, as GM, with a team of 30 young and passionate colleagues. It was, to all those involved, a genuine life experience.

Hospitality Industry is booming all around the world: your mission is to convince an audience to join, what do you tell them?

Jacco : "It is not a job, it is a lifestyle." Our industry is so diverse and there is something for everyone's skill set. What is not to love if you see and understand the full picture?
Felicia : Personalisation is the name of the game. We call each and every one of our guests by the name, we offer them a warm and heartfelt welcome and we share their passions. 


Accor's strategy is to Augmented Hospitality: how does/will it impact hotels mission and teams?

Jacco : Augmented is a powerful word that needs to be incorporated in our day to day.  It is important for us as leaders to translate to our teams that they are empowered to excel in what we do every day for our guests and colleagues, to express at all times what we stand for as a company and to surpass personal and professional successes from the past.
Felicia : Technology has done wonders for the hospitality industry over the past decade or so. It now allows us to convey a prompt and seamless experience to travellers across the world. It is extremely valuable because it helps us anticipate and meet the particular needs of various clients - a yoga mat in the room, a tiny zen garden or a running/ biking map. Above all, the concept of augmented hospitality is amazing because it finally empowers us to build a true community. To exceed our role of hoteliers and to offer our guests far more than a bed and a meal, to BE their hosts, their guides, their friends and to ease their access to unique, money-can't buy experiences. Such personalization and cultural immersion is a great opportunity for our staff also, because it offers them a fantastic feeling of accomplishment and makes them part of something big and meaningful.


What are your new challenges and how do you respond to them?

Jacco : Finding talent has been a major challenge. Recruiting and retention of talent is crucial in our fast-growing industry. It is important that we stay closely connected with all generations, especially the new generation entering the job market. How to respond to the challenge: cultivate our current talent with their needs, teach, coach, guide and empower.
Felicia : Our main focus is on forming and consolidating a strong and successful team, able to offer exceptional and surprising experiences to the guests that choose to visit us. The human resource is a challenge in all areas of the hospitality industry, however, the strength of the Accor network, its' valuable opportunities at all levels help us keep staff fluctuation under control and build long relationships with our key team members. 


What are your sources of inspiration?

Jacco : Working with a team to succeed and then being able to celebrate together afterwards is a continuous source of inspiration for me. I like success to be measured based on financial achievement, as well as colleague and guest satisfaction.
Felicia : I thrive in proximity of positive people, from whom one can learn to dream and hope. Books are for me an ocean of knowledge and an infinite source of personal development. What I am mostly inspired by are the acts of kindness, because they remind us how blessed we truly are…


What kind of traveller are you?

Jacco : I am a light traveler and like to spend my time wisely, enjoying the experiences and environment I am in. Unless for business, I rarely visit a destination twice to ensure that I continue exploring new parts of the world.
Felicia :  Whenever I travel, I really try to get a real feel of the culture, know the people and discover their customs, both by asking questions and observing them, as by seeking authentic experiences.