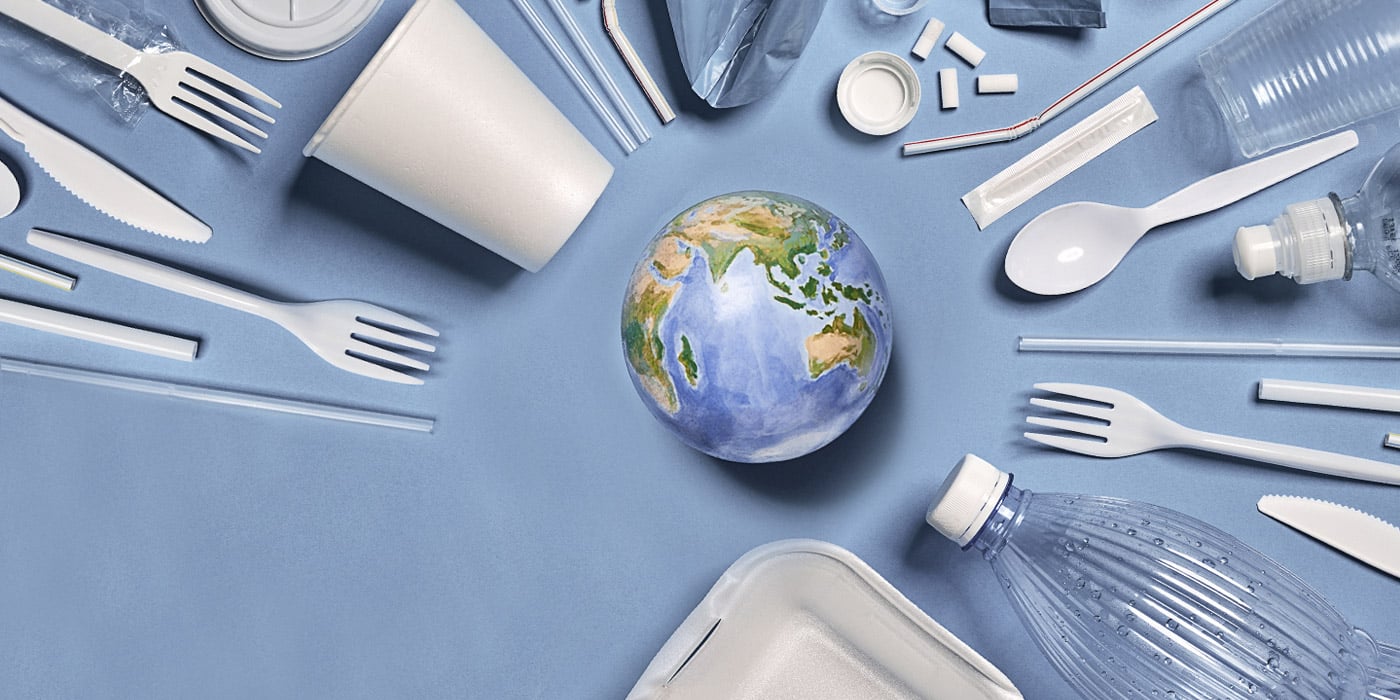 CSR
Zero single use plastic in all hotels!
It's a fact. If we don't act now, there will be more plastic than fish in the oceans in 2050. As part of our commitment to reduce the Group's environmental impact, Accor goes further than the competition and announces a new commitment to eliminate all guest-related single-use plastic items in all hotels by end 2022.
Did you know? 8 million tons of plastic end up in the oceans per year
Plastic is practical: it is light, it resists various elements (water, heat, cold...) and can take various forms. The problem is that plastic is omnipresent and often used for single-use objects. In fact, its production has increased 20-fold since the 1960s and only 5% of this plastic is recycled worldwide, the rest is incinerated, buried or thrown into the wild. It is thus estimated that each of us ingests the equivalent of 1 credit card every week.
Today, we have more than 200M single-use plastic products per year in our rooms, meetings, restaurants and leisure areas.

This is why Accor goes further than competition and reveals its new commitment. Beyond the elimination of all plastic straws, stirrers and cotton buds already engaged, our Group will eliminate all guest-related single-use plastic items in our nearly 5,000 hotels in 110 countries by end 2022.

Relevant alternatives to single-use plastics are already proposed, for some others, sourcing is in progress with the aim to ensure the same level of guest experience. For each solution proposed to hotels, are considering operational impact, costs and better environmental performance.


An operational guide to help hotels make the transition

In this guide, hotels will find information on main single-use plastics in hotels and ecologic alternatives. For each plastic single-use product, solutions are either identified or in the process of being identified. The toolkit is divided into 4 main parts of a hotel:

- Rooms: alternatives of plastic cups, individual amenities…
- Restaurants & bars: alternatives of plastic straws, individual portions at breakfast…
- Meetings and receptions: alternatives of plastic water bottles, goodies, F&B offer…
- Leisure areas: alternatives of plastic slippers, accessories… 
Our hotels have a long-standing commitment against plastic. Here are some testimonies:
- In South America: 

At the Sofitel Bogota which has already removed most single-use plastics, the hotel's involvement came from the team's personal conviction: "Sustainability is very important to me and I know its importance for our future and the next generations to follow, including my little girl. This said, I decided to challenge my team to become more sustainable and to go plastic free.  Of course, supported fully by my team and my region.  This is a team effort!"
David KIANNI - General Manager – Sofitel Bogota - Colombia
- In Europe:

At Novotel Paris les Halles, the aim is to offer a sustainable experience: "In our hotel, offering our guests a sustainable experience is key. Convinced of this priority, the hotel's owner as well as our team took the removal of all single-use plastic as a priority. We first made an inventory of all plastic products we had in our rooms, meetings, and at our breakfast buffet and found relevant ecological alternatives. We received positive feedbacks from guests and now want reinforce our communication to them."
Asmahane BENAMARA – In charge of sustainability projects– Novotel Paris Les Halles - France
- In North America: 

Fairmont's new construction and renovation standards incorporates water filtration taps in guest rooms to reduce not just plastic but bottled water altogether.  "Our largest challenge was finding suppliers of adequate replacements. Often suppliers in our region have not yet answered the call to action on the scale demanded; therefore, supplies quickly ran out. In one instance, paper straws were supplier substituted with corn based compostable straws that upon arrival in the Arizona heat had melted together. This implantation challenge served to highlight the success of providing straws only upon request. The challenge of straw supply dwindling led to a deeper understanding of the reduction that was taking place and the guest satisfaction at the same time."
Michael Ortiz - Planet 21 Champion at the Fairmont Scottsdale Princess – United States
- In Asia:

At the Mercure Singapore on Stevens, which has already removed 100% of the plastic stirrers, changed takeaway boxes and cutlery to more sustainable alternatives. The team wants to go further and faster, for a fairly simple reason: "As the saying goes, 'We Do Not Inherit the Earth from Our Ancestors; We Borrow It from Our Children'. We owe it to the next generation to do our every bit possible in reducing the plastic consumption in our hotels."
Kevin Bossino - Vice President Operations Accor Singapore - General Manager - Mercure Singapore on Stevens
To go even further on fighting plastic, Accor has committed to join the Global Tourism Plastics Initiative led by the United Nations Environment Programme (UNEP) and the World Tourism Organization, in collaboration with the Ellen MacArthur Foundation. 

This movement draws a line in the sand in the fight against plastic waste and pollution. Governments and businesses, such as Accor, commit to a set of ambitious targets. We will work together to eliminate the plastic items we don't need; innovate so all plastics we do need are designed to be safely reused, recycled, or composted; and circulate everything we use to keep it in the economy and out of the environment.